Festive
Festive Categories
---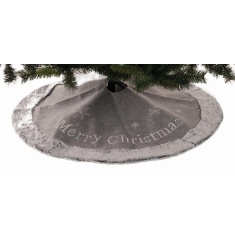 Festive Grey Fur Christmas Tree Skirt
Festive grey fur Christmas tree skirt. Why not add something extra to your Christmas tree? This grey fur tree skirt will make any Christmas tree stand out and also hides the stand of the tree. Has "Merry Christmas" written on the front Velcro straps at the back to keep it in place 100cm in diameter Indoor use only
Festive Merry Christmas Tree Skirt
Merry Christmas tree skirt. Add an extra touch of elegance and class to your home this festive season, with this 120cm red Merry Christmas tree skirt. This item has a stunning look, featuring white stitched festive message and snowflakes, and a faux fur white trim. 120cm diameter "Merry Christmas" message Hide unsightly tree bases and stands Traditional colour scheme Indoor...
---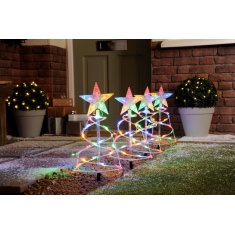 Festive Spiral Pathfinder Tree Lights - Multicolour
Light up your pathways this Christmas with this 4 pack of multicolour trees stakes. Set of 4 x 45cm spiral pathfinder trees 100 multicolour led lights Lead length 5m Lit length 3m 1m spacing between stake Clear / green cable Bulb rating 3v/0.008a/0.024w Transformer rating ip20/3.5v/1.5va Indoor / outdoor use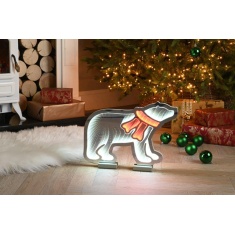 Festive Polar Bear With Scarf Infinity Light
This infinity polar bear will add a modern touch to your Christmas decorations. This light reflect its 183 white & red LEDS back into infinity for a spectacular 3D effect, making this a unique addition to your festive decor. Indoor only Transformer rating ip44/12v/6va lead length 3m Transparent cable 183 white and red led
---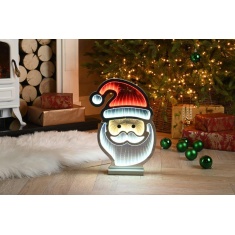 Festive Santa Infinity Light
Add a modern touch to your Christmas decorations with this Infinity Santa Light. This Santa light has a cool effect that makes it look three-dimensional, making this an awesome addition to your decor. Stand it by the door to welcome guests or have him waiting by the tree, this light-up Santa is sure to get the attention of any guests you have over the festive season. Indoor only Transformer...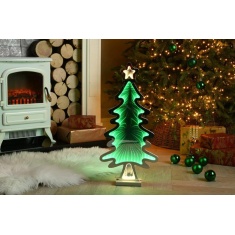 Festive Christmas Tree Infinity Light
This Christmas Tree Infinity Light 60cm is perfect for adding a festive touch to any room. It features a 60cm Christmas tree light on a wooden base, with a lead length of 3m and a transparent cable. The transformer rating is IP44/12V/6VA, and it is suitable only for indoor use. 60cm Christmas tree infinity light on wooden base - indoor only - transformer rating ip44/12v/6va - lead length 3m - transparent...
---
Festive 24 Colour Changing Icicle Lights - White to Blue
A great alternative to your traditional Christmas lights, these colour-changing icicle lights are perfect to add a wintery feel to your Christmas Decor. Perfect for hanging outside or for weaving through a stunning winter display, these lights can change colour at the touch of a button thanks to the included remote control. With 72 LEDs emitting either a solid white or solid blue colour, the clear...
Festive 24 Colour Changing Icicle Lights - White to Warm White
Light up your home this Christmas with these amazing colour changing icicle lights. These lights give you the option to sparkle in either warm white leds or white leds. Lead Length 5m, Lit length 6.9m 24 colour changing icicle lights - 72 white to warm white led - lead length 5m - lit length 6.9mbulb spacing 30cm - clear cable - bulb rating 3v/0.008a/0.024w - transformer rating ip20/25v/3.6va - indoor...