Neff
---
LET NEFF INSPIRE YOUR KITCHEN CREATIVITY
Since the moment Carl Neff created his first oven in 1877, NEFF has always had a pure passion for cooking.
NEFF believe that the kitchen is the heart of every home. A place to eat, meet and be creative with food. That's why NEFF provides all the innovative products you could need to create in the kitchen. From disappearing oven doors that get you closer to your food, to revolutions in steam cooking. Whatever you're creating, NEFF are on hand
---
Every oven for every cooking style
Contemporary and precise, or homely and rustic? Keen or gourmet? However you love to cook, NEFF has an oven for you. Intuitive, easy to use features include the unique Slide&Hide® disappearing door that gets you closer to your cooking. Pyrolytic cleaning delivers a spotless oven in minutes. While CircoTherm® technology lets you cook multiple dishes at once, without flavours mingling.
---
Your hob, your style
Great creativity needs control. NEFF's range of hobs has been carefully designed to give creative cooks the precise control they need. Gas hob features include FlameSelect® with 9 flame settings, for powerful flexible cooking. Induction hob features include TwistPad Fire®, the removable, illuminated dial that gives ultimate control.
---
Hoods, seamless or stand out
NEFF's range of powerful, silent hoods lets your extraction blend in with your kitchen or be bold and striking. Choose from ceiling or wall mounted, or the last surface extraction that eliminates steam and odour at source.
---
Fresher for longer
Food lovers demand the freshest ingredients. That's why NEFF's range of fridge freezers is designed to keep food vibrant for longer. Whether it's a small undercounter, or a large American-style fridge freezer, NEFF has an option for everyone.
---
Less cleaning, more creating
In a range of sizes, NEFF dishwashers are designed to give creative cooks more time to create. At the touch of a button, even the most baked on and bubbled over pans come spotlessly clean. Careful care programmes also protect your glasses and FlexBaskets flex to suit your own needs.
---
Make light work of laundry
The unsung heroes of the house. Whether it's a sauce splattered shirt or a dirty tea towel, NEFF's range of washers and dryers always deliver. Super-efficient, yet incredibly quiet, they offer useful features like sensitive drying and anti-crease
---
---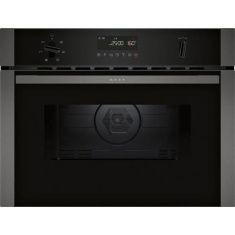 Neff C1AMG84G0B 44 Litres Built In Microwave Oven with Hot Air - Black with Graphite Trim
With this incredible NEFF combi microwave, youll be able to cook, grill and heat up many great-tasting meals. You wont believe the power and efficiency of the C1AMG84G0B.Brilliantly VersatileCook up a storm with this built-in NEFF microwave. Whether youre reheating last nights meal or cooking from scratch, the C1AMG84G0B has the perfect setting for you. Pick from five fantastic cooking functions,...
Neff C1AMG84N0B 44 Litre Built In Combination Microwave
Two Year Manufacturers WarrantyServe up a range of tasty meals with this combi microwave oven from NEFF. Offering five power levels, multiple programmes, and 44 litres of space, the C1AMG84N0B is the ultimate cooking companion for your kitchen.Key featuresHot air grilling5 Microwave power settingsMultiple Functions and Programmes This NEFF built-in microwave will help you cook and grill all of your...