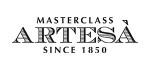 Artesa
Artesa Categories
---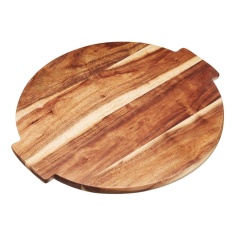 Artesa Acacia Wood Lazy Susan 39x35cm
The perfect centrepiece to any table, the rotating top of the Lazy Susan makes it ideal for sharing foods including antipasti, tapas and cheese. Impress your guests with this stylish and trendy addition to your tabletop, adding a beautiful natural and contemporary feel to your home. The twin side handles also make it easy to carry and serve. Part of the Artesa range of hand finished dining and serving...
Artesa Artes Acacia Wood Cheese Set
Serve a selection of beautiful cheeses to your guests in style. Ideal for presenting and enjoying a variety of cheeses, this set includes four different cheese knives and an elegant acacia cheese board to make slicing and serving cheeses comfortably stylish.It's the perfect gift for any keen cheese connoisseur.Set includes: a serving board, a semi-hard cheese knife, chisel knife, bell knife and cheese...
---
Artesa Artes Five Piece Cheese Knife Set
A great combination of natural materials to present a simple and stylish cheese knife set. Tactile ceramic handles are fused to durable stainless steel blades and displayed on a natural acacia wood stand, making this item an easy and essential addition to any cheese board.Knives are dishwasher safeCheese board is wipe clean only5 year guaranteeSet includes three cheese knives, a cheese fork and a cheese...
---
Artesa Artes Copper Finish Fondue Set
Ready to host a night of pure indulgence for your family or friends? Nothing quite says laid-back luxury like a decadent fondue served up in this stunning copper-coloured pot.Whether it's gooey Gruyère for crusty bread, velvety dark chocolate for fruit and pastry, or sizzling oil for chunks of meat and seafood, this luxurious fondue set is all you need for an elegant, indulgent dining...
Artesa Artes Slate Lazy Susan
Whether you're serving afternoon tea, gourmet canapés or a spread of cheeses, you can present them in spectacular style with the Artesà Slate Lazy Susan Turntable Platter. It's a stylish and convenient way to share food with friends and family – and its beautiful natural slate finish makes it a sure-fire show-stopper.This lazy susan slate serving platter is perfect for a stunning...
---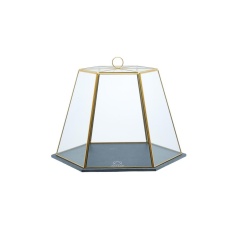 Artesa Slate Serving Cloche Brass
Revenge isn't the only dish that's best served cold, delicately stacked canapes, smoked fish, cured meats, antipasto, dips, miniature cheesecakes and other sumptuous desserts are also often at their best when presented chilled, and this beautiful glass and slate cloche, by Artes is sure to present you chosen dishes in suitably decadent style. The slate base is shaped to fit the hexagonal lid and with...
---
Artesa Three Tier Slate Serving Stand
Artesà Slate Three-Tier Cake Stand/Serving Stand is made up of three beautiful natural slate serving platters. It makes it so simple to present cakes, canapés and other treats in splendid style.You can rely on this elegant tiered serving stand to make an impression every time, whether you've got friends over for a dinner party, or you just want to dress-up your best bakes.Each of its...
Artesa Two Tier Slate Serving Stand
Love entertaining? Make a statement at your next party with this gorgeous, hand-finished serving stand from the Artesà collection. It elegantly displays and presents your sweet pastries, cakes and desserts as well as savoury mini quiches, sushi and antipasti.This show-stopping serving stand is made of natural acacia, a wood that's renowned for its durability and for the beauty of its grain....
---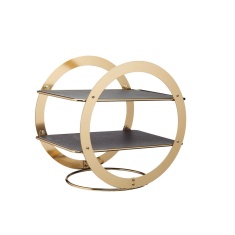 Artesa Wheel Frame Slate Serving Stand Brass
If you're taking the trouble to make your canapes and bite-sized treats by hand (or, at least, letting guests believe that you did) then they'd need to be displayed and served with equal effort. Ready to showcase your party-starters in the very best light is this stunning brass and slate serving stand, from Artes. Art Deco-esque style, this serving stand really takes the trend for bold designs and...