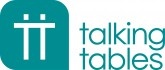 Talking Tables
---
Host Your Own Murder Mystery On The High Seas Game
Inside the game box you will find themed props, murder clues and game play cards to recreate the cruise ship and set the scene in your home. The host hands out name badges and character cards to their guests as they arrive, then reads out the welcome speech to introduce the characters and unfold the story. There is a specific character for the host to play (Billy Ocean - the host is not a suspect but...
Talking Tables Escape Room Island Edition
Great for adventure lovers and superheroes in the making, this interactive escape room game will put your whole family's lateral thinking skills to the test. Transported to a mysterious island with an active volcano on the verge of eruption, your team has just 90 minutes to track down Earths last colony of bees and save mankind from extinction. The difficulty level of this game is moderate and the...
---
Talking Tables Escape Room London Edition
About this 'London Escape Room Game:Are you ready to embark on a code-cracking challenge? You and your guests have been invited to an exclusive launch party at the London art gallery Grafix. As you admire the artwork, the lights suddenly go off and you find yourself mysteriously trapped inside with no way out. One of the galleries most celebrated artists has been taken hostage and you have just 60...
Talking Tables Escape Room Museum Edition
Fancy a night locked in a museum? Our Host Your Own Escape Room - Museum Edition game is the next best thing. It kicks off with an introduction video of the museum guard telling the players about a secret exit and the legend of creatures coming to life at night. With clues hidden in the exhibits, from dinosaurs and mammals, to the solar system and more, you need to solve the mystery and find the...
---
Talking Tables Host Your Own Escape Room Game New York Edition
Bring all the thrill of an escape room to your home with our Host Your Own Escape Room New York Edition. In this game players take on the role of undercover detectives that are racing to uncover a plan for the heist of the decade in a central New York City station. Time is of the essence to solve all 15 challenges in 90 minutes to discover the four pieces of key information you need to catch the criminals. Included: 1...
Talking Tables Host Your Own Family Game Show
The Talking Tables Host Your Own Family Game Show is a greta game for Christmas Day, and family gatherings all year round, there are five thrilling rounds in this board Game. Featuring, Shout Out, Scavenger Hunt, Say Another Way, Strange or Fiction and Where in the World, as well as wild and wacky bonus rounds to double points and take the lead. Included: 1 Buzzer 25 Say Another Way cards 25...
---
Talking Tables Host Your Own Horse Racing Night Board Game
Talking Tables Host Your Own Horse Racing Night Board Game Christmas wouldn't be Christmas without a family board game to captivate everyone after dinner, and with this Horse Racing Game from Talking Tables, you can bring the thrill of the racetrack to your living room. Enjoy less time looking at your screens and more time cheering on your lucky winner for a chance of lifting the coveted International...
Talking Tables Host Your Own Murder Mystery on the Night Train Game
"All aboard! The crew welcomes you onto the European Belle for an evening of timeless luxury and terror." The train goes dark as it enters a tunnel. Was that a scream from the dining carriage? Take a seat and upgrade your next dinner party or family games night and host your own murder mystery evening. Dress up in character and put your magnifying glass to work as you and your guests attempt...
---
Talking Tables Host Your Own Pub Quiz Game
Choose your teams and get ready to test your knowledge with this brilliant pub quiz kit - with a variety of topics so everyone can get involved. Contains: Instructions, 42 x Quiz Question Cards, 6 x Joker Cards, 2 x Props, 1 x Gameplay Pad, 1 x Answer Pad, 1 x Rules of Play, 1 x Scoreboard Poster and 1 x Chalk Size: 26.5 x 18.5 x 5cm Sutiable For: Ages 16+
Talking Tables Kids Vs Grown Ups Games Night
Team up with a mixture of adults and kids in each team or go head-to-head as kids vs grown ups for the ultimate games night showdown. Players must spin the wheel to select a game and win the round to move their playing piece around the gameboard. With 6 games to land on including Charades, Quick Draw and Three Clues - there's a game to match everyone strengths, as you dance, draw and sing your...
---
Talking Tables Murder Mystery At The Manor
Unleash your inner Sherlock with Talking tables Host Your Own Murder Mystery at the Manor immersive experience that will have everyone on the edge of their seats. In the role-playing detective game, you and your fellow players will be transported to the Scottish Highlands where there has been a terrible murder. From the moment the host sends out the downloadable invites with the players' character...
Talking Tables Murder Mystery At The Theatre
About this '1920s Murder Mystery Game: Ladies and gentlemen, the Full House Theatre kindly asks you to take your seats for tonight's performance. As the lights go down and the curtain rises, a deadly drama is about to unfold ... Was that scream part of the play? Host a thrilling murder mystery night for you and your friends with this murder mystery game kit. The perfect addition to a 1920s themed dinner...