Garden Sofa Sets
---
Aruba Lounge Set
The Aruba range features Duraboard table tops, Petan synthetic wicker and polyester cushions to create a stunning yet hard-wearing product for use for years to come. Featuring a weather resistant, maintenance free, environmentally friendly table top that is built to stand the rest of time. The Aruba's table top is highly UV-resistant and comes with a hard wearing unique surface finish. This...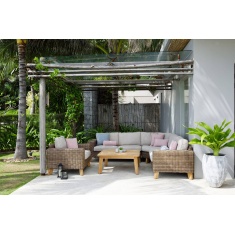 Bahamas Corner Coffee Set And Armchair
Elegance often lies in simplicity. The warm, earthy tones of the Bahamas range and the smooth lines of its finish ensure that it can blend beautifully with practically any surroundings while delivering premium comfort levels to guests and family alike.The defining feature of the range is our specially formulated Petan wicker, which is durable and highly malleable, forming the perfect support for the...
---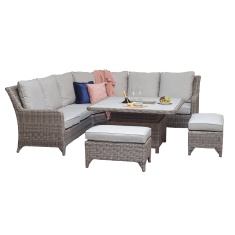 Haddington Garden Corner Set With Height Adjustable Table
The Haddington Corner Set comes with a lift and rise dining table, along with an integrated ice bucket in the centre of the table. The set consists of 2 Sofas and a Corner piece,. 2 x Bench seats and a height adjustable table. The table top is contrasted with a hand painted aluminium plank top and made with fully assembled aluminium frames and woven in 8mm half round grey wicker Grey wicker...
RRP £4819.00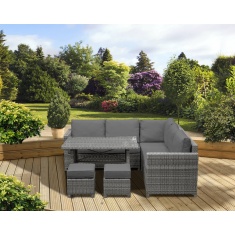 Harby Deluxe Corner High Back Dining Set
Looking for a great corner group dining set? Look no further than the Harby Deluxe Corner High Back Dining Set from Downtown. With a left and right sofa, a corner section, table and 2 stools, there's room for all the family! An aluminium frame is covered in a synthetic wicker weave. The table top is 5mm tempered glass. The comfortable cushions are 8cm deep, 5cm deep on the stools. Left...
---
Katie Blake Seville Large Corner Unit With Hi-Lo Table
Katie Blake's Seville Garden Furniture Collection is fabricated using only the highest quality and long-lasting materials. With its classic looks, generous sized chairs and comfortably filled cushioning, it is as stylish as it is durable. The light and sturdy aluminium framework has a weather resistant synthetic resin weave. The Seville collection can be left outdoors permanently requiring no...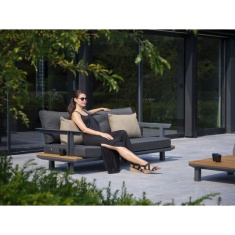 LIFE Industry 2.5 Seater Sofa Bench Lava/Carbon
Brand new for the Summer season is the LIFE Industry range. One of our absolute new favourites for the summer, this ultra-modern industrial looking 2.5 seater sofa bench would look fantastic in your outdoor space. Enjoy relaxing in your garden on the ultra comfy and stylish LIFE Industry 2.5 Seat Sofa Bench. The ultra-modern carbon-coloured cushions beautifully compliment the teak table tops....
RRP £1829.00
---
LIFE Timber Garden Corner Set - Lava/Carbon
The LIFE Timber Corner Set is one of our all-time favourite pieces of garden furniture. The set includes a left-hand open bench, a right-hand corner bench, an extension piece (which can go on either the left- or right-hand side), a corner piece, one armchair and a half poof. Perfect for dining is the height adjustable table with a black spraystone top. When the meal is finished, the table can be lowered...
RRP £4199.00
Lifestyle Garden Bermuda Light High Back Lounge Set
Bermuda Light high back coffee set just confidently boasts the splendour of the deep-rooted tradition with its simple yet elegant high back cushions mixed with the clean cuts of the modern times. The set not only enhances the character of your patio but also enhances the comfort you experience with high-density padding while the high back eases the tension of your shoulder and neck. Both seat and...
---
Perfect for creating your very own lounge area to relax with friends and family, at Downtown we have a range of all-weather Garden Sofa Sets that will look great in your outdoor space this summer. With our flexible finance options, including interest free credit, you can even spread the cost for years to come.
Whether you are a regular garden party host, a sun-worshipper or simply looking for your own relaxing spot, a garden sofa is a fantastic addition to your home. This year we are delighted to bring you a variety of outdoor sofas and chairs that are constructed from reliable materials such as rattan, synthetic wicker or aluminium for you to transform your outdoor space. Whether you have a small patio space or large decking area, you are sure to find the right design and size combination for you, from smaller two seater sofas to large corner sets and reclining garden sofas.
Looking for some tips before you make your purchase? We have outlined a few things to think about before you buy below. Space and size requirements Before you purchase your dream outdoor sofa, consider your available dimensions outside, ensuring there is enough room for your sofa set as well as freedom to move around it. You don't want your new garden set to feel cramped into a corner with no space to go and get drinks or set up the barbecue. Also consider how many people you will regularly seat outside.
Will all of the family be using the sofa set to lounge around outside? If so, you may want a larger garden set or one with side tables to rest drinks on. Our guide on How to Position Your Garden Furniture will help you with any spacing decisions. Caring and maintenance Whilst most garden furniture sets are built using weatherproof or resistant materials, they will not be able to resist constant downpours. Consider your climate and other aspects such as whether you have an indoor space nearby to store your cushions. We also sell a variety of garden furniture covers to help your furniture last longer. Buying a parasol can also be a worthy investment. The spacious canopy provides shade for you and your outdoor furniture from UV rays when the sunlight is too strong and can protect you from light rain showers.
Our guide on What Garden Furniture can be left outside will help you solve any care questions. Frames and materials Ultimately, the key to the overall feel, practicality and look of your garden sofa set will be the frame and other materials used. Each frame and material will come with its own care instructions. For example, aluminium is rust-free and weather resistant, making it a popular, modern choice for families. Rattan is both luxurious and easy to clean, remaining popular in both contemporary and traditional outdoor spaces. You can find our guide on how to clean and restore garden furniture here for more advice.
Ultimately, the choice of which garden sofa set to buy is yours. You have to like the look and design of your sofa set. Each set will come with a warranty and the dimensions can be seen on our website. Don't forget we also have a wide range available to view and test for yourself at our Downtown Garden Centre.
Still need more help? Our in-depth buying guide is here to help. We offer nationwide UK delivery, interest free credit, and have garden sofas available in a range of sizes including luxurious garden corner sofas, meaning that you can order happy in the knowledge you will find the perfect outdoor sofa for your home.