Salter
---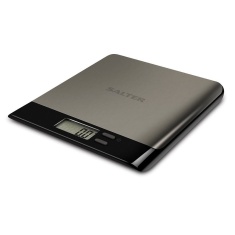 Salter Arc Pro Digital Kitchen Scales 5kg
Compact in design, the Arc Pro Stainless Steel Kitchen Scale from Salter is compact in design, and perfect for baking and cooking at home. Measure multiple ingredients in one bowl with the add and weigh function, saving time on washing up. Easily and accurately measure liquids and fluids with the aquatronic feature, perfect for milk, water, and even red wine cooking. The kitchen scale boasts a stainless...
Salter Conversion Table Digital Kitchen Scales 5kg
Never worry about converting your ingredient measurements again with the Conversion Table Electronic Kitchen Scale from Salter. Boasting a large easy to read display, the scale has a unique design showing key conversions used in cooking from temperatures, liquids, cups and length. The scale has an ultra slim platform for easy storing yet still practical to hold a measuring bowl. The Add & Weigh...
---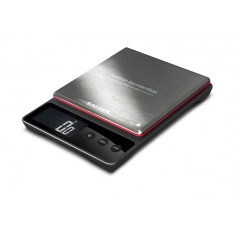 Salter Heston Blumenthal Precision Digital Scales 5kg
Brilliantly precise, the Precision Kitchen Scale from Heston Blumenthal Precision by Salter is a kitchen must have for avid bakers and chefs. Perfect for using to accurately weigh yeast for pizza dough or your favourite ingredients, the scale measures in 0.5 g increments up to 5 kg. Weigh multiple ingredients into the same bowl, wet or dry, with the add & weigh and aquatronic features. Designed...
Salter Stainless Steel Evo Digital Kitchen Scales 5kg
Accurately weigh ingredients for your favourite delicious bakes with the Evo Electronic Scale from Salter. Whether you're having fun baking with the family or cooking up a masterpiece, the digital scale is perfect for both. With an add & weigh feature, you can add multiple ingredients into the same bowl, saving time and mess when washing up. Extremely accurate, the electronic scale can measure...
---
Salter Waterproof Digital Kitchen Scales 5kg
Never worry about spillages while baking again with the Waterproof Electronic Kitchen Scale from Salter which can withstand under water up to 1 metre deep for a maximum of 30 minutes. Boasting an easy to read backlit display, the scale can switch between imperial and metric measures with the touch of a button. The waterproof scale features an add and weigh function to easily add multiple ingredients...