Addis
Make household chores simple with houseware, kitchenware and laundry products from Addis. Whether you are looking for a retractable washing line or rotary airers to help keep on top of your laundry or a new mop to keep your floors clean; you can find just what you're looking for in our Addis range.
---
Addis Categories
---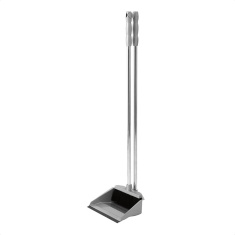 Addis Long Handle Dust Pan Set
Addis have designed a long handled dustpan set that is a perfect for removing the backache that you would get from a traditional dustpan and brush set. Great way to clean the floor, providing you with a sweeping brush as well as someway to store any dirt.Dimensions: 240mm x 190mm x 870mm (W x D x H )
RRP £21.49
Addis Microfibre Flat Mop
Addis have created a mop that is superb for hardwood and laminate floors. With the mircofibre head that is perfect for giving a delicate and caring clean to your floors and there will be no need for you to use cleaning chemicals. The microfibres are designed to lift and trap dirt effortlessly. Can be used on either dry or slightly damp. Coming with a adjustable handle that allows you to adjust the...
---
Addis Superdry Plus Mop Graphite
Addis have designed the ultimate mop to clean your house with. In a single sweep it cleans, abosrbs and dries, helping to make this an critical part of your arsenal if you have pets at home. Acting like a sweeping mop by collecting everything in its' path. When you put the mop in water an hair, dirt or dust with simply disperse. The mop features an antibacterial agent that is designed to help prolong...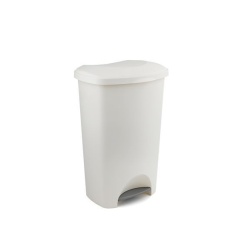 Addis Pedal Bin Linen 50L
Convenient and hygienic to use this 50L pedal bin will be the perfect addition to the kitchen. Made of hard wearing plastic and available in a choice of colours to suit your decor
---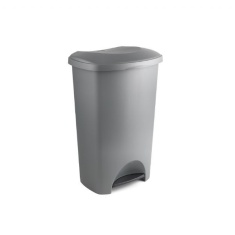 Addis Pedal Bin Metallic 50L
Convenient and hygienic to use this 50L pedal bin will be the perfect addition to the kitchen. Made of hard wearing plastic and available in a choice of colours to suit your decor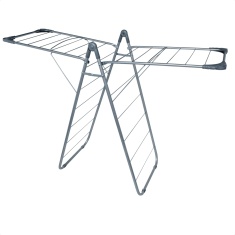 Addis 10M Slimline X Wing Airer
The Addis 10M Slimline X Wing Airer is stylish and compact with adjustable wings for multiple drying positions making this ideal for flat drying of delicates. Folds perfectly compact for easy storage. 4 corner hooks for hanging longer items.Non-slip feet, ideal for standing in the bath.Dimensions - W1180mm X H1040mm X D90mm
---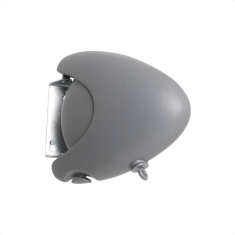 Addis 508033 15M Retractable Line
The Addis 15 metre retractable line allows you to hang up washing without taking up valuable space in you living areas. The 15 metre line will hold plenty of clean washing, and is easily mounted to your wall.Material: PlasticColour: GreyLine length: 15mWall mountableIncluded:1 x Retractable line2 x Screws3 x Wall plugs1 x Hook
RRP £15.49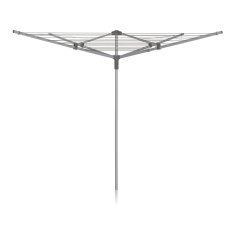 Addis 508037 4 Arm 40 Metre Rotary Airer
The 4 arm 40 metre rotary airer from Addis is easy to set up and use. The large 40 meter drying area offers great space for drying a vast amounts of clothes. The included metal ground socket keeps the airer firmly in place and its rust resistant paint will keep it in great condition.Easy to useUmbrella clip systemFoldable32mm metal ground spike includedRust resistant painted stainless steel finishTurn...
RRP £56.49
---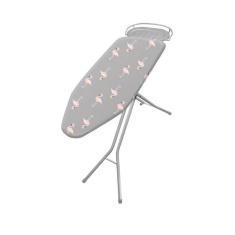 Addis Affinity Ironing Board Flamingo
The lightweight board for easy handling, has a 100% cotton cover with thick high density foam lining for efficient steam ironing.7 height positions from 70cm up to 92cm with locking leg safety catch.Universal heat resistant iron rest that safely and comfortably holds irons and steam generators.Integrated hanger bar for convenience - ideal for hanging freshly ironing garments.Ironing surface dimensions:...
RRP £45.49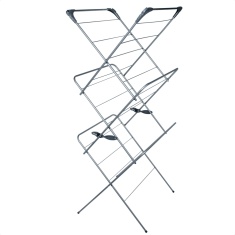 Addis Graphite 3 Tier Concertina Airer
This 3 tier airer is the perfect method of drying your clothes on those cold and wet days. Coming with safety locking mechanisms that hold the airer sturdy when open. You will notice the corner hooks that are great for hangers and with 15 meters of drying space there will be more than enough room even for larger loads of washing. Dimensions: Closed: 634mm x 85mm x 803mm (W x D x H)Assembled: 634mm...
---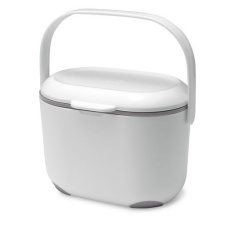 Addis Premium Range Compost Caddy White Grey
Sleek and discreet this compost caddy will add a touch of style to your work surface. Available in a choice of colours to suit your decor. The caddy is complete with removable inner bucket that can be washed in the dishwasher or by hand. Complete with carry handle.Dimensions - W245mm X H175mm X D180mmAvailable in a choice of coloursRemovable inner bucket is dishwasher safe