Dyson Fans & Heaters
---
Dyson AM09 White Hot+Cool Jet Focus Fan - White/Nickel
Stay the perfect temperature all year round with this Hot + Cool fan heater from Dyson. Featuring the latest technology and a range of options to adapt to your needs, it's the ultimate companion for every season. The Best of Both Worlds Keep cool in the summer and warm in the winter with the Dyson AM09. Focused mode channels a powerful flow of air for long-range heating or cooling, thanks...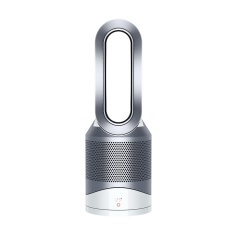 ---
Dyson HP09 Pure Hot+Cool Formaldehyde Air Purifier
Captures dust, allergens and bacteria. Even destroys formaldehyde.1Fully-sealed to HEPA standard what goes inside, stays inside.Powerful circulation to purify the whole room3Only Dyson purifiers have Air Multiplier technology
Dyson HP7A Heating & Cooling Air Purifier - White
Bring home the ultimate in fan technology with the HP7A from Dyson. Engineered to help improve the quality of the air, this purifier is ideal for allergy sufferers.Multiple UseAs the Dyson HP7A is a three-in-one model, youll get the best of hot, cool, and purified air all in one handy appliance. It detects, reports, and captures pollutants in a flash, cleaning your air without you lifting a finger....
---
Dyson Pure Cool TP00 Purifying Fan
Want clean, purified air throughout your whole room? Take home Dyson's TP00 - a purifier which helps you control the air around you. Keep yourself cool when temperatures rise, just when you need it. Dyson Technology Featuring 360° sealed HEPA and activated carbon filters, this purifier can capture 99.95% of microscopic pollutants and allergens as small as 0.1 microns. Then, thanks to...
Dyson TP09 Cool Air Purifier
Dysons TP09 purifier has been engineered to deal with pollution, using advanced technology to clean the air in your home. Dyson is the only purifier that goes beyond standard test conditions to give you fantastic results every time.Purified Air - Stay comfortable and cool with the fantastic TP09. Combining advanced filtration with Air Multiplier technology, this tower fan will generate powerful circulation...
---
Dyson TP7A Purifier - White/Nickel
If your allergies have been giving you grief, then youll love this Dyson air purifier. Its designed to work in rooms up to 27 square feet, so itll easily rid your bedroom, kitchen or living room of lingering pollen and bacteria. And because it circulates the air, you can rest easy knowing every inch of your space is clean.Itll even cool things down to make sure youre as comfortable as possible. Plus,...