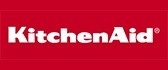 KitchenAid
---
---
Steeped in history, the KitchenAid revolution began in 1886 with Josephine Chochrane, who would go on to revolutionise the world of cooking with her invention of the dishwasher. The first KitchenAid mixer was created by Ohio engineer Herbert Johnson in 1919, and over the years the KitchenAid brand has gone on to inspire gourmets, cooks and home chefs around the globe.
KitchenAid pride themselves on professional performance. Whether you are a beginner baker or well on your way to becoming an expert cook, KitchenAid is your ideal partner in the kitchen space. Choose from a range of appliances that are designed and developed in partnership with professional chefs.
---
Artisan KitchenAid Quality
Sight and touch are the first senses that come into play in the KitchenAid experience. In fact, all KitchenAid appliances are synonymous with fine craftsmanship, durability, sophisticated materials, sturdiness and meticulous attention to detail. Stainless steel conveys a feeling of durability and unparalleled quality to your eyes and hands. All these elements are harmoniously combined with meticulous design detail and care, both in major and small appliances.
Iconic Design
The entire range of KitchenAid small domestic appliances and cooking tools has always stood out thanks to their timeless, distinct and bold design that adds character to any kitchen, inspired by the iconic Stand Mixer. There can be no denying that fine craftsmanship, durability, sturdiness, quality materials and careful attention to detail were and continue to be the basis of all KitchenAid's counter top and major appliances, whether free-standing or built-in models.
---