Asmodee
Asmodee Categories
---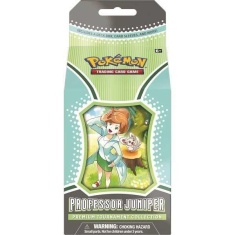 Pokemon TCG: Professor Juniper Premium Tournament Collection
The first thrilling step on the journey to becoming a Pokemon Trainer in the Unova region is a visit to Professor Juniper. Leverage the professor's expertise and support on your own path to victory in the Pokemon TCG with the Professor Juniper Premium Tournament Collection. You don't even have to travel to Nuvema Towna full playset of the Professor's Research Supporter card featuring Professor Juniper,...
RRP £42.50
Pokemon TCG: Sword & Shield 11 Lost Origin Elite Trainer Box
Surpass the Point of No Return. As the boundary between dimensions tears apart, Giratina VSTAR plunges the world into the abyssal shadow of the Lost Zone. While Aerodactyl VSTAR harnesses this distorted power, Magnezone, Drapion, Hisuian Goodra, and Hisuian Zoroark also appear as Pokemon VSTAR to show off their own astonishing skills, joined by Kyurem VMAX. Above the shadows, Enamorus V and Radiant...
RRP £65.00
---
Pokemon TCG: Sword & Shield 12 Silver Tempest Build & Battle Stadium Box
Enter the Pokemon Stadium:Ready for Battle! Build two decks with a friend:and then play right away. This Pokemon TCG: Sword & Shield:Silver Tempest Build & Battle Stadium contains a massive set of cards, including two Build & Battle Boxes. Each Build & Battle Box contains four booster packs and a 40-card deck that includes an exclusive foil card. You can play these decks right out of...