Grantham Gin
---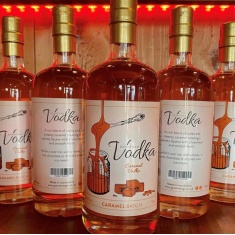 Grantham Gin Grantham Caramel Vodka 20cl
A rich blend of vodka and creamy caramel creating velvety liqueur with a luxurious and smooth finish. Perfect over ice, with a mixer, in hot chocolate or drizzled over ice cream. For the perfect serve... serve neat over ice, or keep refrigerated & drink neat
Grantham Gin Heritage Batch
Heritage Batch, Discover a uniquely compelling craft gin. Sweet ripe apples infuse into exciting gingerbread spices creating a distinct and evocative finish. This high quality small batch gin is produced in Lincolnshire. A homage to historic Grantham where gingerbread was first made in error in 1740 by a local baker and Granthams famous son Sir Isaac Newton (not forgetting his apple!) For the perfect...
---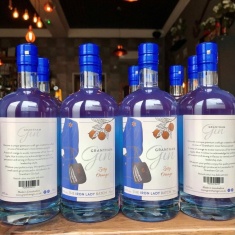 Grantham Gin Iron Lady Batch Gin
Iron Lady Batch, Discover a unique premium craft gin created to reflect on one of Grantham's most famous people. A taste of orange to evoke memories of her favourite tipple, blue in colour to acknowledge her political persuasion and strong in flavour to remind you of her leadership style. Whatever your politics enjoy this quality premium small batch gin produced in Lincolnshire for Grantham Gin Ltd....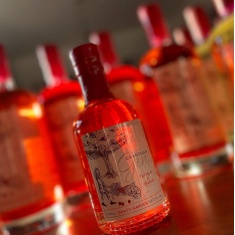 Grantham Gin Red Apple & Rhubard Gin
Isaac's Garden Batch, Discover a deliciously bitter sweet premium craft gin. Sweet red apples are blended with tart pink rhubarb to represent the flavours of a true English garden. A homage to Grantham's famous son Sir Isaac Newton and the gardens of his countryside manor, including his iconic apple tree. For the perfect serve... mix with Tonic or Ginger Ale, add plenty of ice and garnish with a slice...
---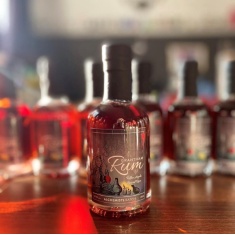 Grantham Gin Toffee Apple Spiced Rum
Discover an exciting craft rum blending toffee apple with rich spices and a warming finish. Celebrate Grantham's heritage with this tribute to the Alchemist, Sir Isaac Newton. For the perfect serve... mix with Appletiser, coke, or serve neat over ice.