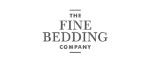 Fine Bedding Co
---
---
The Fine Bedding company are driven by a simple idea – to make the very finest bedding for the best nights sleep.
They are a fourth generation UK based company with their own eco certified factory producing premium down feather and innovation fibre filled bedding for over 100 years.
Starting in 1912 as a small family company originally supplying large cruise liners and ships, before focusing on developing luxurious, solution-based bedding products.
They believe in Quality Craftmanship, with huge investment into making sure their prodcuts are made to perfection, sustainability and ethical sourcing with compassionate manufacturing.
---