Games & Puzzles Sale
---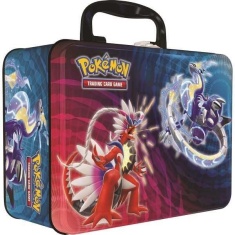 Pokemon TCG: Back to School Collector's Chest
A Treasure Chest Packed with Pokemon! This sturdy metal case contains more than a dozen special Pokemon goodies, including some not found anywhere else. You will find 6 boosters, 3 promo cards featuring Sprigatito, Fuecoco, and Quaxly, 4 colorful sticker sheets, a mini portfolio, a code card for Pokémon TCG live, and a cool Pokémon coin. 6x Pokemon TCG Booster Packs 3x Foil...
Hasbro Classic Operation
It's the family favourite Operation game, with truly classic funny ailments! Cavity Sam is feeling a bit under the weather, and kids will love to 'operate' and make him better.Use the tweezers to take out all of Cavity Sam's 12 funny ailment parts that parents might remember, such as a wishbone, Charlie horse, and Adam's apple. Players choose a doctor card and 'operate' to remove that ailment from...
RRP £22.99
---
Ravensburger Lamborghini Huracan Evo 3D, 108pc - Orange
Take your puzzle fun from 0 to 62 mph in 2.9 seconds with our stunning 1:18 model Lamborghini Huracan EVO 3D puzzle, complete with rotating wheels!Anyone who has a soft spot for the sought-after Lamborghini Huracan will be unable to resist this lite model. On a scale of 1:18, the Lamborghini Huracan 3D Puzzle is the perfect miniature, with elegant lines and a classically orange design appealing to...
RRP £28.99
Ravensburger Harry Potter Knight Bus 3D, 216pc
Hop aboard its the Knight Bus to the rescue! For witches and wizards who are Floo-sick, or whose Apparition is unreliable, you can always puzzle the Harry Potter Knight Bus 3D Puzzle. The authentic-looking purple, triple-decker bus may not feature seats during the day or beds at night, but for the Muggle world it offers a fun puzzling experience. Each of the 216 high-quality plastic pieces are shaped...
RRP £24.99
---
Ravensburger Pictopia - Harry Potter Edition
Showcase your knowledge of J.K. Rowling's wizarding world when you encounter 1,000 picture trivia questions featuring the beloved characters, extraordinary places, magical creatures, and enchanted objects from the epic Harry Potter movies. It's a game of teamwork - with a competitive twist! Sometimes you'll work together and other times answer alone, but you'll wager your points every time! How much...
RRP £24.99
Twister Board Game
Add a twist of fun into any party or family night with the game that ties you up in knots! This Hasbro Twister game is the classic game with 2 more moves. Give the spinner a whirl and see what's next as you try to keep your hands and feet on the mat! Right foot red! Can you do it? Left foot green… you got it! If your knee or elbow touches the mat, or you fall over, you're out....
---
Find yourself the perfect Puzzle & Game to test yourself or the family at Downtown. With our wide ranging selection including jigsaws, trivia games, card games, board games, electronic games and novelty games for many different ages, you will be spoilt for choice with our selection.
Whether you are looking for a new version of one of the classics such as Monopoly or Cluedo, or want to see what all of the fuss is about Cranium or The Game of Life, you can find them all here.