Houses, Nests & Tables
---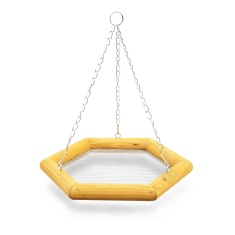 Tom Chambers Snackery Hanging Table
The Tom Chambers Snackery Hanging Tray is a new rustic style seed feeder with a fine mesh base and wooden hexagonal frame thats ideal for bracket or tree branch hanging.The tray also offers a perching place for garden birds, to rest on whilst they feed. A charming addition to any garden.Mesh hanging tray with an attractive hexagonal wooden surroundIdeal for hanging from a bracket or tree branchFor...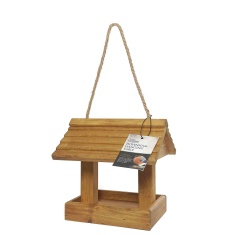 Tom Chambers Downham Hanging Table
Easy to hang and crafted from FSC certified timber, the Downham Hanging Bird Table from Tom Chambers protects bird food from getting wet and is easy to hang from a branch or hanger. Handcrafted, this feeding table has a large feeding area.Dimensions - H 23 x W 24 x D 20cmRope Length - 18cmHand Built in the UK from FSC Certified TimberRustic rope hangerUse with a variety of bird foods including suet...
---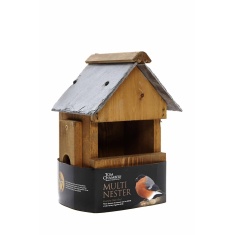 Tom Chambers Multi Bird Nester Box
Crafted from FSC certified timber in the UK, this nest box is wonderfully versatile as you can have it fully open, or a 28mm or 32mm entrance hole - to suit all kinds of birds.Includes 28mm and 32mm entranceCan also be used as an open fronted box with the panel removedHandcrafted with a genuine slate roofFSC certified timberWeight – 1.32kg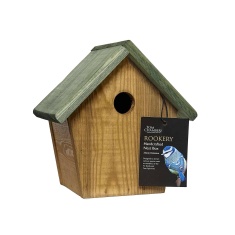 Tom Chambers Rookery Bird Nest Box
Tom Chambers Rookery Handcrafted Nest Box has been handcrafted in the UK using only FSC approved timber.A 32mm entrance will attract species such as House Sparrows and Tree Sparrows, so youll be able to enjoy watching the birds in your garden year-round while helping them continue to thrive. 32 mm entrance, perfect for members of the Tit family and Tree SparrowsSloped sides add interestWeight 0.9kg
---
Tom Chambers Hedgehog House
Handcrafted from FSC timber and real slate roof . A safe place for hedgehogs to hibernate in with an easy and safe access entrance. Place your hedgehog house in a sheltered spot tucked away under a hedge, make sure that the area won't flood when it rains. Ideally line your house with straw or leaves for bedding.Dimensions: 48cm (w) x 27cm (h) x 35.5cm (d) (including roof)Genuine slate roofFSC...
RRP £39.99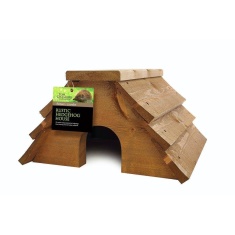 Tom Chambers Rustic Hedgehog House
Use a Tom Chambers Rustic Hedgehog House to attract prickly visitors to the garden.By providing a home for hedgehogs, it will attract them to stay in and around the garden. Hedgehogs are great for natural pest control because they feed on unwanted pests such as slugs and snails.In recent years, hedgehog numbers have declined due to a lack of natural habitat, so give them a helping hand with this beautiful...
RRP £29.99