Pest & Disease Control
---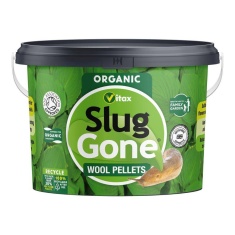 Vitax Slug Gone 10L
Vitax Slug Gone 10L A natural, organic way to keep slugs and snails away from plants, derived from British woolSimply lay the pellets on growing media around the stems of plants and wetMinute fibres in the mat are an irritant to slugs and also absorbs moisture from the slug's footBiodegradable, contains naturally occurring slow release nutrients to help feed plantsImproves moisture retentionHelps protect...
---
Protect your flowers, fruit and vegetables with our selection of Pest & Disease Control products from Downtown. Whether you have an outdoor allotment or simply grow a few flowers or herbs in your home or conservatory, then we have a range of bug clear and pest removal products.
We also stock fungus clearing products for use on flowers such as roses and other ornamental plants.