Artesa Three Tier Slate Serving Stand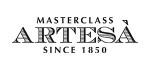 Item: 9001030827
Product Description
Artesà Slate Three-Tier Cake Stand/Serving Stand is made up of three beautiful natural slate serving platters. It makes it so simple to present cakes, canapés and other treats in splendid style.
You can rely on this elegant tiered serving stand to make an impression every time, whether you've got friends over for a dinner party, or you just want to dress-up your best bakes.
Each of its three tiers is produced from natural slate and finished by hand. With its uneven grey surfaces, it retains all of its natural charm. This means it's sure to sit well at your dinner table.
Slate's naturally cool, which makes this three-tier serving stand fantastic for presenting antipasti dishes, delicate petit fours, spreads of sandwiches and much more. It'll help to keep them at the right temperature for serving too.
Includes: 3 different sized serving plates, metal spindle and carry handle and assembly instructions
Assembled Serving Set Dimensions: 28.5 x 34.5cm
Wipe Clean Only
Delivery & Refunds
The delivery cost of your order depends on the size of the item you are ordering.
A product that can be delivered by one person, is standard delivery and costs £4.95. This is is free if you spend £50 or more. Delivery will take between 2 - 4 working days for in-stock items.
A two person delivery is required for furniture, appliances and items over 30kgs. This costs £25, or is free if you spend £2999 or more. Delivery will take between 5 - 10 working days for in-stock items. For items that are available to order, the delivery timescales will be confirmed in the checkout.
Deliveries to some remote postcodes are possible, and carry an additional premium delivery charge. This will be charged in checkout, but please contact us if you have any questions.
Click and Collect is available on in-stock items from our Grantham site; NG32 2AB. This will be offered in the checkout for small items, but please contact us if you require click and collect on Furniture.
Please be aware that we do not offer free returns, so unless there is a fault with your item, then you will be required to cover the cost of returning it to us, or for us to collect the item.
Please be aware of the order cancellation policy attached to furniture products, and in particular, items that are configured to your choice.