Dolls & Soft Toys Sale
---
---
Imaginext Jurassic World Thrashin' Action T.Rex
Young dinosaur fans can make their playtime more exciting than ever with the Imaginext Jurassic World Thrashin' Action T. Rex dinosaur figure from Fisher-Price! Kids can control this ferocious action figures every move using the interactive actions. Slide the button to change the Tyrannosaurus Rexs eyes from calm to angry, then use the tail and trigger to control the action as it chomps and thrashes!...
RRP £26.99
Jurassic World Uncaged Rowdy Roars Speed Dino
Get up close and wild with these Uncaged Rowdy Roars dinosaur figures inspired by the thrilling action and adventure of Jurassic World: Dominion! These interactive figures bring a whole new dimension to human and dinosaur relations, as they are touch-activated to MOVE, CHOMP and ROAR! Their intense gaze and stylized design, colours and textures make them an exciting addition to any dinosaur collection....
RRP £37.99
---
Mega Pokemon Jungle Ruins
Build ancient and forgotten ruins for Cubone, Charmander and Omanyte figures to interact with. Explore the ruins with interactive features: ask Charmander to start a fire or play hide-and-seek with Omanyte and Cubone in the bushes! The set combines with other Adventure Builder sets to create an expanded Pokemon world full of authentically designed details. Check out Pikachu's Beach Splash, Bulbasaur's...
RRP £37.99
Disney The Little Mermaid Ursula Fashion Doll
Meet the powerful villain from Disney's The Little Mermaid! The Ursula posable fashion doll is shown with her signature tentacles with sparkle details and features her lavender updo hair for styling fun. Fans can collect all The Little Mermaid dolls and create their own adventures above or below the waves! Inspired by the character from Disney's The Little Mermaid, the Ursula fashion...
RRP £29.99
---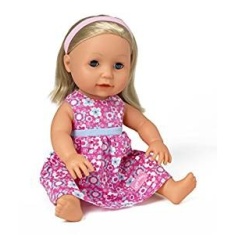 Tiny Tears Classic Doll
Little girls will love taking care of this Classic Tiny Tears doll. She's just like a real baby. Give her some water to drink from her bottle, and you'll soon need to change her!This 40cm doll comes everything you need to look after her, including a potty, bottle, dummy, hairbrush and pull-up knickers.Suitable for ages 3+. Contents: fully jointed doll, dress, hairband, pacifier, pull-up knickers, hairbrush,...
RRP £27.99
---
Our range of Dolls & Soft Toys are perfect for children of a variety of ages. Whether they are looking for a life-like, realistic baby doll such as Baby Annabel, allowing imaginative role play.
Dolls are fantastic for the fun development of responsibility and empathy, whilst also helping your children to be inspired by brilliant characters and outfits. At Downtown we have a variety of educational and fun dolls and soft toys that your child will enjoy for hours on end, no matter what their personal interest or age range. From the Disney Princess range of dazzling characters in stunning outfits and designs to the magical world of Harry Potter and the Chamber of Secrets Dolls and plush Ty Beanies that are available in many different cuddly designs.