Action Figures Sale
---
Pokemon TCG: Advent Calendar 2023
Your little Pokémon trainer can count down to the big day with this brilliant Trading Card Game advent calendar! Each day, your little one will find an exciting reveal! Throughout the month, they will receive 25 surprises, including special foil cards, booster packs and more! There's a different Pokémon goodie to open every day. Dimensions - D 14.8cm x H 15.3cm x W 38.1cm Age...
RRP £44.99
Hot Wheels Advent Calendar 2023
Drive the holiday spirit with the Hot Wheels 2023 Advent Calendar! Behind 24 numbered doors, discover 8 Hot Wheels vehicles in 1:64 scale plus 16 winter-themed accessories like a snowplow, Yeti and reindeer to enhance the storytelling possibilities. A playmat on the side of box can be used with the new surprises to inspire creative adventures. Count down to the holidays with Hot Wheels. Get...
RRP £27.99
---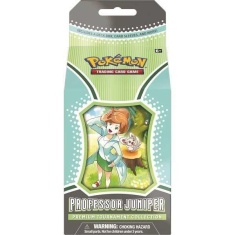 Pokemon TCG: Professor Juniper Premium Tournament Collection
The first thrilling step on the journey to becoming a Pokemon Trainer in the Unova region is a visit to Professor Juniper. Leverage the professor's expertise and support on your own path to victory in the Pokemon TCG with the Professor Juniper Premium Tournament Collection. You don't even have to travel to Nuvema Towna full playset of the Professor's Research Supporter card featuring Professor Juniper,...
RRP £42.50
Fisher-Price Thomas & Friends Minis Advent Calendar
Kids can countdown to Christmas with their favorite Sodor Railway pals with the Thomas & Friends MINIS Advent Calendar from Fisher-Price. From December 1st to the 24th, preschoolers can open a new window to discover a surprise toy inside. By Christmas Day, they'll have a whole railway of miniature toy trains, rail vehicles, and other push-along characters from the Thomas & Friends show...
RRP £23.99
---
Pokemon TCG: Pokemon Go V Battle Deck Bundle Mewtwo Vs Melmetal
Get ready for a major Pokemon battle with a ready-to-play double deck bundle with extra Trainer cards! This set includes a deck for you and one for a friend. You can choose either Mewtwo V or Melmetal V to lead your team in a heads-up battle against another Trainer. Then, switch up the decks and see what things look like from the other side can you win with both powerful Pokemon V?
RRP £42.00
Pokemon TCG: Sword & Shield 11 Lost Origin Elite Trainer Box
Surpass the Point of No Return. As the boundary between dimensions tears apart, Giratina VSTAR plunges the world into the abyssal shadow of the Lost Zone. While Aerodactyl VSTAR harnesses this distorted power, Magnezone, Drapion, Hisuian Goodra, and Hisuian Zoroark also appear as Pokemon VSTAR to show off their own astonishing skills, joined by Kyurem VMAX. Above the shadows, Enamorus V and Radiant...
RRP £65.00
---
Team up and save the world with Action Toys & Figures at Downtown we have the range for your.
With action and hero toys suitable for a range of ages, you can trust you will find the right product or gift for your budding action hero here at Downtown.