Lawn Care
---
Scotts EasyGreen Rotary Spreader
Use with Scotts Lawn Builder, EverGreen and Miracle-Gro granular lawn care and/or grass seed products onlyVariable settings to apply lawn food or grass seedWider coverage to feed large lawns easily122-340cm coverage
Westlands Aftercut All In One Lawn Feed, Weed & Moss Killer
All in one Lawn Feed, Weed and Moss Killer for 7 day rapid greening, which kills weeds and roots and moss fast for a stronger healthier Lawn.Greens in seven daysConditions & nourishesBiodegradableKeep product off skin and always use gloves when handling this product - Wash hands and exposed skin after useKeep out of reach of children & petsCoverage: 350 square metres
---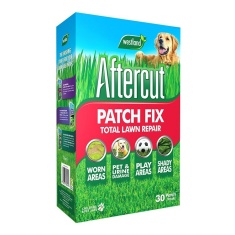 Westland Aftercut Patch Fix 64 Patch Box 4.8Kg
Aftercut Patch Fix is a unique blend of grass seed, feed and seeding soil designed to fix patches in your lawn quickly and easily. It's a 2 in 1 solution that treats both worn areas and dog spotsGrass seed, feed & seeding soil blendRepairs worn areas and patchesFix dog spots with pet urine neutraliserChildren and pet safeIdeal for play areas and shady areas
Westland Safelawn
Westland SafeLawn appeals to households that love their lawn, but are put off using chemicals due to safety concerns over children and pets. Its a organic fertiliser with added lawn seed, made using only natural ingredients.100% natural fertiliserSafe to use around children and petsCreates healthier and stronger lawnPrevents weeds & mossAdded grass seed to thicken and fill in patchesFeatures built-in...
---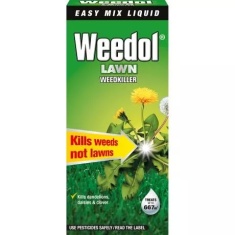 Weedol Lawn Weedkiller 1L
Weedol® Lawn Weedkiller (Liquid Concentrate) is a systemic weedkiller. It is an easy mix concentrate liquid and kills weeds to the roots.Use April - SeptemberWeedol® Lawn Weedkiller (Liquid Concentrate) is a selective weedkiller that controls most common broad-leaved lawn weeds without harming the grass.Weedol® Lawn Weedkiller (Liquid Concentrate) kills problem weeds such as white clover,...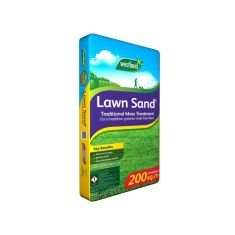 Westland Lawn Sand Bag 200sqm
For a moss-free lawn Westland Lawn Sand is ideal. It is used to control moss in established lawns. Lawn Sand blackens the moss and thickens the lawn, as well as making it a lush green colour. It also helps improve drainage for lawns growing on heavy soils.Traditional moss treatmentKills moss in daysFeeds for greener and thicker resultsWhy UseEach granule contains a blend of two ingredients that work...
---
Westland Lawn Drop Spreader
This Lawn Drop Spreader is great for the easy and accurate application of our Westland lawn treatment products as well as grass seed. The product also has a simple to use calibration setting for your different spreading requirements.Traditional drop spreader with on/off switchIdeal for applying the Westland lawn treatment rangeSize spreading wide 41cm (16 inches)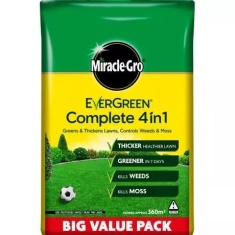 Miracle-Gro EverGreen Complete 4 in 1 360m2
Miracle-Gro EverGreen Complete 4 in 1 feeds your lawn whilst also working to kill weeds and control moss. The WaterSmart formula helps to protect against heat, drought and other stresses. Your lawn will be greener in 1 week, the moss will blacken and can then be easily raked out, and weeds will be killed within 3 to 5 weeks. Our bestselling grass care product: Miracle-Gro EverGreen Complete 4...
RRP £34.99
---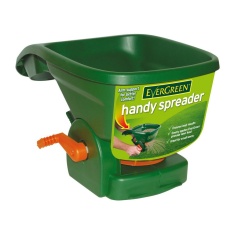 EverGreen Handy Spreader
For even application of granular lawn care and grass seedGreat for small lawnsArm support for greater comfortEasy to use, with 5 settings2 metre coverage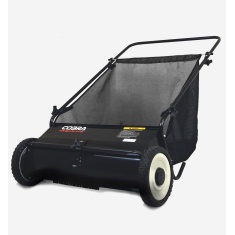 Cobra PLS66 66cm Push Lawn Sweeper
The Cobra PLS66 Push Lawn Sweeper will take the hard work out of collecting leaves and other garden debris. The hard wearing brushes are powered by the rotation of the wheels and the 66cm working width make this sweeper an invaluable tool for garden clearance.Cobra sweepers take the hard work out of sweeping jobs. Every Cobra lawn sweeper has been expertly designed in the U.K to cater specifically...
---