Fertilisers & Plant Care
---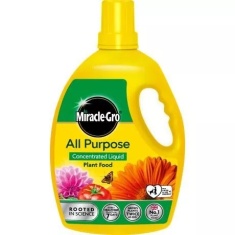 Miracle-Gro All Purpose Concentrated Liquid Plant Food 2.5 litres
Miracle-Gro All Purpose Concentrated Liquid Plant Food is a formulation containing Humifirst which is rich in organic matter: stimulating growth, yield, root formation and improving plant resistance to environmental stresses. Guaranteed visibly healthier plants in 7 days. Grows plants twice as big: Plants need more than just water, they need the right balance of essential nutrients to grow and bloom...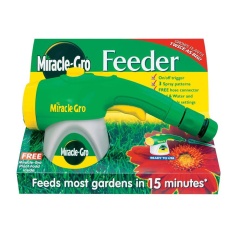 Miracle-Gro Feeder
Feed beds, borders, pots, hanging baskets and lawnsFilled with Miracle-Gro All Purpose Soluble Plant Food and includes FREE hose end connector72 Litres of feed
---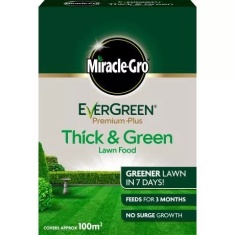 Miracle-Gro Premium+ Lawn Food 100sqm
Miracle-Gro EverGreen Premium Plus Thick & Green Lawn Food is a high quality slow release fertiliser for use throughout the growing season. It provides deep uniform greening while slowly feeding your lawn and the lawn stays thicker and greener for months without surge growth. Guaranteed fast greening in 7 days.2kg carton to cover 100sqm, use between April and September.High quality slow-release...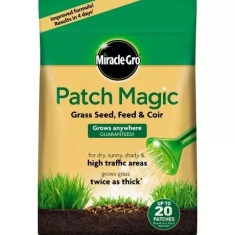 Miracle-Gro Patch Magic Bag 1.5kg
Miracle-Gro Patch Magic Grass Seed, Feed & Coir contains a special binder which helps keep seed from washing away. It grows 2x thicker than ordinary grass seed and first shoots can be seen within just 4 days.This revolutionary grass patching mix is a combination of coir, grass seed, and plant food. Miracle-Gro Patch Magic provides the optimum environment to grow grass anywhere – even on concrete!With...
---
Hozelock EasyMix 2-in-1 Composter
The Hozelock EasyMix 2-in-1 composter offers a shorter composting time thanks to the aeration and rotation which helps to accelerate the composting process. The nutrient-rich liquid feed is collected in the tank under the drum. Thanks to the innovative Click & Spray function, the user can simply connect a hose to it, to feed their garden soil with ease!Around 40-50kg of compost will be produced...
RRP £134.99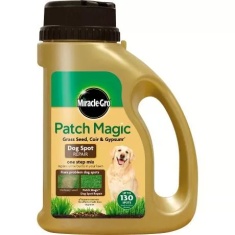 Miracle-Gro Patch Magic Dog Spot 1.2kg
Miracle-Gro Patch Magic Dog Spot Repair is a 3-in-1 mix of lawn seed, coir and gypsum. This product is a specially selected, high quality, saline tolerant grass seed, with the gypsum neutralising and repairing urine burns in lawns.Miracle-Gro Patch Magic Dog Spot Repair contains gypsum – a calcium-rich mineral which neutralises and repairs urine burns in lawns, rebalancing the soil nutrient levels....
---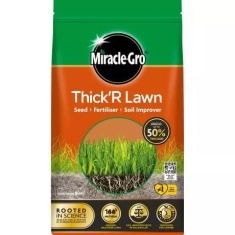 Miracle-Gro Thick'R Lawn 80sqm
Miracle-Gro Thick'R Lawn is natural combination of grass seed, fertiliser and soil improver that will help you grow thick, beautiful grass in just one use.Miracle-Gro Thick'R Lawn is 100% natural making it safe for the environment, children and pets. Your lawn will become greener in just 15 days.Miracle-Gro Thick'R Lawn's special formula contains multipurpose hard-wearing grass...
Westland Aftercut Ultra Green Plus Lawn Feed 350sqm
Aftercut Ultra Green Plus lawn feed and iron supplement feeds and conditions grass from root to tip. It feeds all parts of the plant without a surge in growth. It also crowds out moss therefore giving you a perfect greener, stronger and healthier lawn. Use Aftercut Ultra Green Plus in spring, summer and autumn for a visibly greener lawn in just three days.Rapid greening within 3 daysPrevents mossNo...
---
Help your garden grow with our range of fertilisers & plant care products at Downtown. From plant food and liquid fertiliser to chicken manure, you can find a range of garden growth products to suit your requirements; whether it's a big and better bloom of flowers or more tomatoes in your next batch.